Barack Obama or Mitt Romney: Who Will Win The 2012 U.S. Presidential Election?
Nadeem_Walayat: The final countdown to the U.S. presidential election has now begun with expectations that there is little that each candidate can now effect on the electorate during the remaining 10 days. Most opinion polls currently put Romney slightly ahead of Obama i.e. ABC 50/47, BBC Poll of Polls 49/47, Gallop 48/48. However the high margin of error of as much as +/ -5%, and typically +/ -3% compounded by the electoral college system makes all of these opinion polls unreliable in trying to determine the US election outcome, therefore this analysis is focused on key events that impact on determining a probable forecast for the US presidential election 2012.
The time-line of key events begins with Romney's infamous own goal 47% video that resulted in a near collapse of Romney's poll ratings which set the scene for a virtual walk in the park re-election for President Obama who had always been the favourite, as long as he did not make the mistake of taking the voters for granted.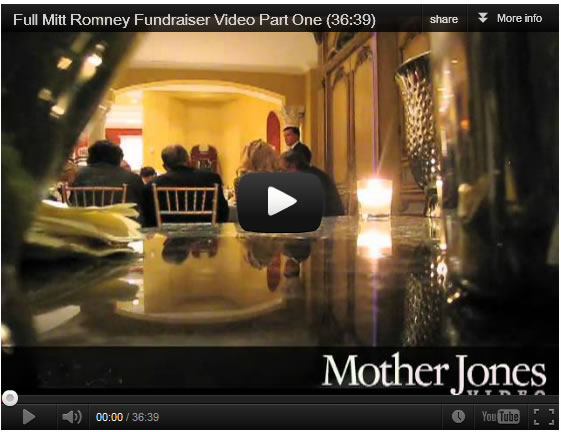 Have you ever wondered how billionaires continue to get RICHER, while the rest of the world is struggling?
"I study billionaires for a living. To be more specific, I study how these investors generate such huge and consistent profits in the stock markets -- year-in and year-out."
CLICK HERE
to get your Free E-Book, "The Little Black Book Of Billionaires Secrets"
"There are 47 percent of the people who will vote for the president no matter what. All right, there are 47 percent who are with him, who are dependent upon government, who believe that they are victims, who believe the government has a responsibility to care for them, who believe that they are entitled to health care, to food, to housing, to you name it. That, that's an entitlement. And the government should give it to them. And they will vote for this president no matter what."
3rd October – Romney Wins the First Presidential Debate
President Obama turned out to be his worst enemy by following what was clearly disastrous advice and handing Romney a decisive win and an actual chance at the White House as polls started to narrow.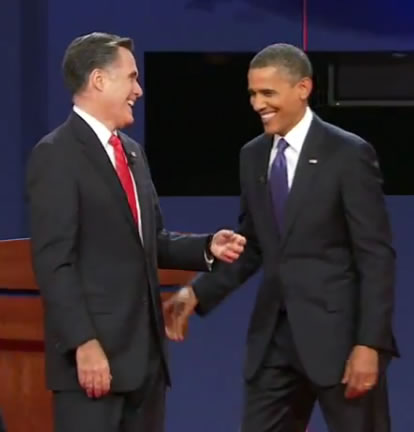 6th October – US Employment Rescue, Obama reelection virtually guaranteed
If there is one issue that ranks highest amongst most of the electorate than that would be Jobs. Therefore Obama averted possible election disaster by the BLS publishing a highly favourable employment report for September that showed the US unemployment rate falling below 8% to 7.8% for the first time in some 45 months, against which Romney was left to make statements that did not stand up to scrutiny as the below unemployment record graph shows that there was little Romney could say that could counter Obama's Jobs performance that followed the Bush economic disaster.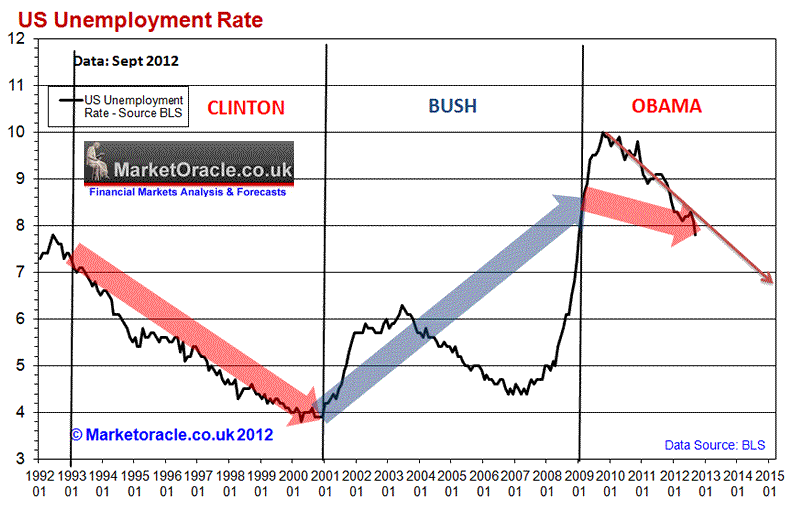 The unemployment data halted the momentum that had been building following the first debate. This led me to conclude at the time that rather than the race being as tight as the mainstream pundits were suggesting as they mistakenly were extrapolating the Romney momentum all the way into election day, and despite two debates pending, President Obama was still heading for a relatively strong re-election victory of over 300 electoral votes (270 needed to win) as I correctly concluded the Romney momentum had ended, and that it had never actually seen Romney take an actual lead over Obama at any point.
06 Oct 2012 - High U.S. Unemployment Rate, Obama Failure or Bush Catastrophe for Romney to Continue?
Therefore many american's may be surprised on election night when the results start coming in that point to a relatively strong Obama election win of more than 300 Electoral votes.
Can October Jobs Report Help Romney?
The October Jobs report is due just 4 days before the election (November 2nd), if it is very bad then yes it could help Romney, just as a good jobs report helped Obama. But the election momentum continues in Obama's as is the overall down-trend in the official unemployment data.
However as my analysis of 6th October stated, the trend in US unemployment is likely to rise into mid 2013, this is due to the level of corruptness in reported employment statistics against real US unemployment (U6) that the below graph illustrates -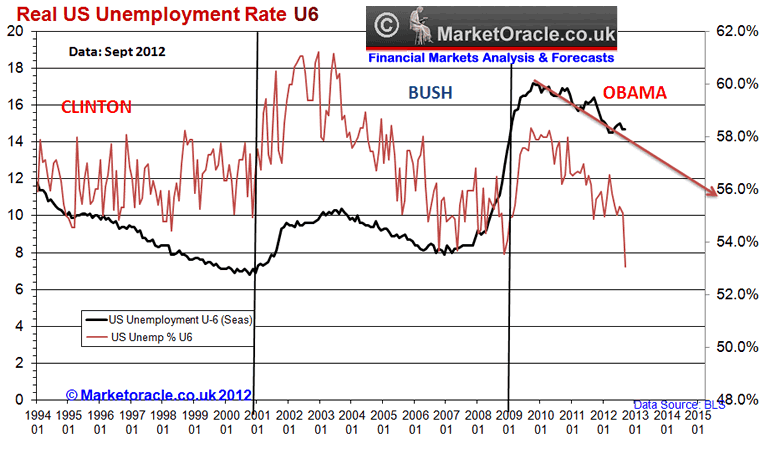 An analysis of the rate of corruption suggests that
a. the Bush regime during the last 3 years of it's Presidency was engaged in maximising the level of corruption in the official unemployment statistics.
b. That the Obama regime official statistics have in the lead up to the 2012 Election increasingly become more corrupt with the final statistics on par with that of the Bush regimes efforts in the lead up to the November 2008 election.
Therefore whilst the real rate of unemployment is reducing as both graphs exhibit a downtrend, the actual extent of the fall in unemployment is far less than the official statistics suggests, which luckily for Obama is that which most of the general population focuses upon.
Therefore probability favours a rise in the U.S. unemployment rate as will be reported on the Friday ahead of the Tuesday election. The big question mark is to what extent could that figure rise, Obama is hoping for a marginal rise to 7.9%, and Romney for a rate at above 8%, my expectation is for a marginal rise to 7.9% under the basis that the U.S. economy continues to bounce into election as evidenced by latest GDP data of 2% per annum.
16nd October – Aggressive Obama Wins 2nd Presidential debate.
Obama sought to avert a reply of the disaster of the first debate and in so doing put the poll trajectory back in his favour as the gap between Romney and Obama once more starts to widen.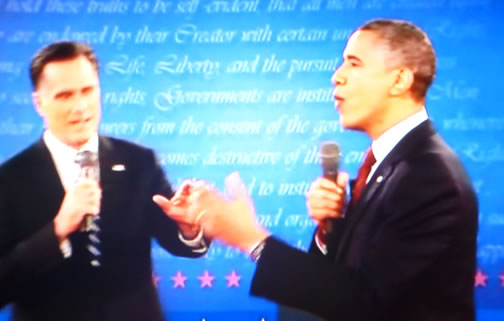 22nd October – Third Presidential Election Debate – Romney's Failure.
Most viewers and commentators would give Obama a slight edge over Romney in the third and final debate, his last chance to build momentum, instead Romney tried hard to appear a man of peace after having made a string of statements in the past that alluded to an aggressive foreign policy and Obama focused on domestic reasons for why he should be re-elected. In fact the whole debate stands out for the continuous statements of agreement on subject after subject which ultimately favoured Obama and hence fed the trend for a widening in the gap between Obama and Romney. Therefore Romney blew his last chance towards building momentum so the strategy for agreeing with Obama was a mistake.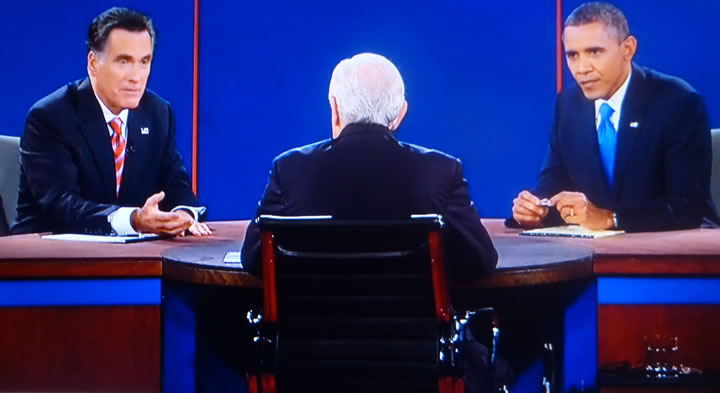 So whilst all eyes are on misleading highly erroneous opinion polls that give the illusion of a close race, and on which way Ohio goes, as things stand my forecast remains for President Obama to be re-elected on November 6th with the probability favouring more than 300 electoral votes i.e. there has been no net change since the release of September jobs report as the trend continues to build towards Obama increasing the real events based gap between himself and Mitt Romney by election day, enough to push through the 300 barrier, with or without Ohio and even a bad October Jobs report of a rate above 8% (I expect 7.9%), will not have enough time behind it to create enough momentum to make much impact at such a late stage.
The bottom line is that Romney failed to re-ignite the momentum that built up following he first debate that was halted by the 6th October Unemployment report, instead his performance during subsequent debates has been weaker than Obama's and therefore the election really was lost by Mitt Romney during mid September following the 47% video, which crippled his chance of ever taking the lead as I correctly suggested at the time (19 Sep 2012 - The Day Mitt Romney Lost the U.S. Presidential Election 2012, Youtube Fund Raising Video).
Source: http://www.marketoracle.co.uk/Article37226.html
By Nadeem Walayat